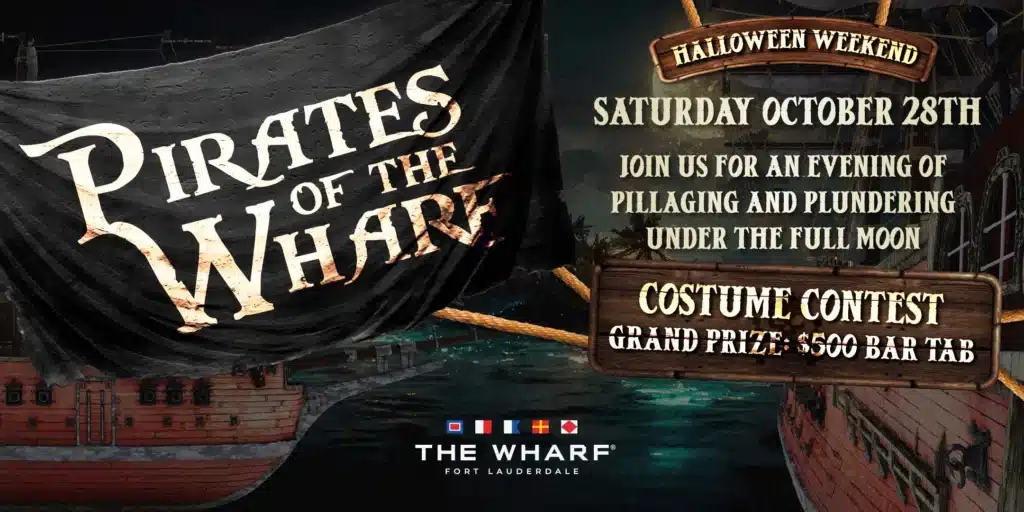 Avast, mateys! Halloween is upon us, and we're transforming the docks of Fort Lauderdale into a swashbucklin' pirate extravaganza. Don your finest pirate attire and join us for The Wharf Fort Lauderdale's epic 'Pirates Of The Wharf' party. It's the perfect shindig for both plunderers and fans of all things pirate. Get ready for a rollickin' good time filled with music, drinks, and all the merriment you can handle. This is the event that will have everyone in Davie County talking! So show us your pirate spirit and hop aboard on October 28th at 12 PM – trust us, you won't regret it!
Eats by: Knotty Burgers, The Piefather, Crème de la Crêpe, and Los Altos Taqueria.
What Will Be Featured At Pirates Of The Wharf?
Can you imagine winning a notorious $500 bar tab? Now's your chance! Assemble your scurvy crew and showcase your most extraordinary costumes for a chance to win the costume contest grand prize. No need for a perilous voyage or deciphering maps – this treasure awaits you at the heart of our extraordinary celebration!
Get ready to be spellbound as The Wharf Fort Lauderdale morphs into a mesmerizing pirate stronghold! With a dash of supernatural charm, we'll have chilling decorations and an unsettling grace. Witness as shadows come alive on worn-out sails and lights reveal ghostly treasures overflowing with gold doubloons. Get ready for a hauntingly good time!
Get ready to embark on an epic adventure with our Anchors Aweigh Special at Pirates of the Wharf. For just $35, our Whiskey Limonata Pitchers will transport you to a night of excitement and energy, perfectly fitting our daring pirate theme. Join us in a world where every moment is a heart-pounding escapade, filled with exhilarating tales and lively companionship. Don't miss out on this extraordinary voyage.
With the perfect combination of music, atmosphere, drinks and costumes, the Pirates of The Wharf Halloween Party is bound to be an unforgettable experience. The event promises to bring excitement, entertainment and a great time all at one place. So grab your closest friends, break out your costume trunk and join in on the fun at the Wharf Fort Lauderdale this Halloween season! It's sure to be a spook-tacular night that will leave you with memories to last a lifetime. Don't miss out—take the plunge into an evening packed with mystery and mischievousness you won't soon forget.
To RSVP for Pirates Of The Wharf at The Wharf Fort Lauderdale, click here.
To see a list of upcoming events for sign up at The Wharf Fort Lauderdale, click here.
Details:
The Wharf Fort Lauderdale
20 W Las Olas Blvd, Fort Lauderdale, FL 33301
(954) 372-7606