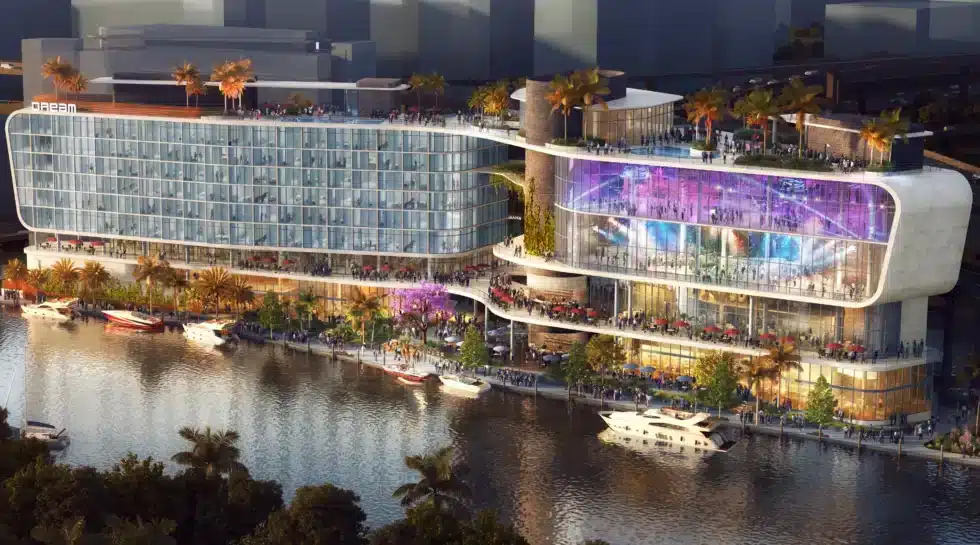 MIAMI – August 23, 2023 – The Wharf Miami will close on Saturday, September 16 to make way for the expansion of the venue at the highly anticipated Riverside Wharf development. The iconic entertainment venue has welcomed millions of guests, hosted hundreds of cultural experiences and events, and became a space where countless cherished memories were made for all who have experienced the venue since its doors opened in November 2017. Originally the brainchild of Breakwater Hospitality Group's Emi Guerra and MV Real Estate Holdings (MVREH)'s Alex Mantecon, The Wharf Miami has pioneered the open-air, waterfront concept and played a significant role in establishing the Miami River District as a world-class entertainment destination, as well as shaped the direction of entertainment venues in South Florida.  
The Wharf Miami's final weekend, dubbed "The Closing Parties" will be a monumental celebration kicking off with "The Closing Parties: & MORE!" on Friday, September 15, a themed celebration of everyone's favorite moments and holidays at The Wharf Miami taking place from 4:00 p.m. – 3:00 a.m. The venue will be entirely decked out from top to bottom with "giant inflatables, photo moments, featured cocktails & more!" in celebration of The Wharf Miami's most iconic events over the past five years. Seven themed bars with unique cocktails will include Cinco de Mayo, St. Patrick's Day, Blowfish & Friends, HogWharf, Christmas and the 90s. 
On Saturday, September 16, The Wharf Miami will host "The Closing Parties: Bon Voyage" from 12:00 p.m. – 3:00 a.m., the venue's final day and a pure celebration of what makes The Wharf Miami. The first 500 people to arrive with an RSVP on Saturday will have a chance to spin a prize wheel to win The Wharf Miami merchandise. To RSVP for The Wharf Miami's closing events, visit WharfMiami.com.
Upon closing of The Wharf Miami, seawall work will begin for the future site of Riverside Wharf, which is anticipated to break ground by end of year. Riverside Wharf will be home to the rebirth and expansion of The Wharf Miami, evolving from a pop-up experience to a world-class permanent establishment. Riverside Wharf as a whole will also include a 165-key Dream Hotel, an impressive 30,000-square-foot nightclub and rooftop dayclub, 16,000 square feet of signature restaurants, a 12,000-square-foot event hall, and a marina component. 
"When we opened The Wharf Miami, it was a total game changer for the Miami River District and a never-before-seen concept in South Florida. Over the past six years we have had the honor of operating this venue while bringing unique events, culinary concepts and an amazing atmosphere which forever changed Miami's social scene. Watching the venue become so successful and beloved over time has been incredibly gratifying, we are proud to have created a space where guests felt welcomed and created lifelong memories," said Emi Guerra, co-founder of Breakwater Hospitality Group. "While The Wharf Miami is closed, we are working hard to bring an impressive, elevated experience to Riverside Wharf, a project that would not have been possible without the support of our community. We invite guests to join us during the closing weekend to celebrate six incredible years of The Wharf Miami and what's to come."
Developed by MV Real Estate Holdings (MVREH) in conjunction with Driftwood Capital and Merrimac Ventures, the 10-story, 200,000-square-foot project will be the defining development for Miami's Downtown core as a city-within-a-city, all-encompassing destination for unparalleled entertainment, exceptional dining and world renowned hotel accommodations. It will encompass a highly amenitized, 165-key Dream Miami luxury hotel, a world-class 30,000-square-foot nightclub and rooftop dayclub, a high-energy 12,000-square-foot event hall and mezzanine, as well as The Wharf Miami's expansion. The property has been designed by Jon Cardello of Cube3 architects, with interior designs by world-renowned iCrave and landscape design by Savino-Miller Design Studio. 
"As Miami locals, it has been incredible to watch our city grow and experience The Wharf Miami's evolution over time. The Wharf Miami has truly put the Miami River District on the map as a world-class entertainment destination. We are excited to begin the development of Riverside Wharf in this special location. This project will become a landmark property for Miami's Downtown core and provide an never-before-seen experience to our community, as well as will bring The Wharf Miami back as a permanent establishment on the waterfront,"  said Alex Mantecon, CEO of MV Real Estate Holdings.   
Dedicated to improving the neighborhood and giving back to the community, the developers of Riverside Wharf will construct a new public riverwalk along the development site as well as a state-of-the-art sea level rise initiative that will include building a new seawall. The project also will pay homage to the neighborhood's historic fishing culture with a permanent Garcia's Fish Market, where locals can get the freshest catch daily. 
Last August, City of Miami's referendum item #152 was passed after being unanimously supported by the Miami City Commission. This referendum added 50 years to Riverside Wharf's current lease of a city-owned parcel of land which will be part of the development site, paving the way for Riverside Wharf to become a longstanding part of the Miami River community. This vote allows Riverside Wharf and its development partners the ability to provide the community with more jobs, commit more money to the City of Miami, improve the riverwalk and public areas near the property as well as improve the conditions of the aforementioned surrounding seawall.  
The Wharf Fort Lauderdale will remain open and operational, alongside Breakwater Hospitality Group's additional concepts which include recently opened, open-air waterfront venue Regatta Grove in Coconut Grove; beloved Irish pub JohnMartin's on Miracle Mile in Coral Gables; seafood-forward restaurant concept Rivertail in Downtown Fort Lauderdale; and open-air gathering spot Carousel Club at Gulfstream Park in Hallandale Beach.  
For more information about Riverside Wharf, please visit https://riversidewharf.com.
About Breakwater Hospitality Group
Breakwater Hospitality Group is a multi-concept food and beverage organization based in Miami, Florida. Founded in 2018 by Emi Guerra and Alex Mantecon, Breakwater Hospitality Group has transformed South Florida's social scene with a concentration on quality beverages and cuisine paired with curating memorable, community hubs in unforgettable locations. Currently, Breakwater Hospitality Group operates open-air waterfront venue Regatta Grove in Coconut Grove; beloved Irish pub JohnMartin's on Miracle Mile in Coral Gables; outdoor waterfront venue The Wharf Fort Lauderdale, pizza and Italian food concept The Piefather and seafood-forward restaurant Rivertail situated along Downtown Fort Lauderdale's Riverwalk; and open-air gathering spot Carousel Club at Gulfstream Park in Hallandale Beach. Its latest concept, Pier 5, will open at Bayside Marketplace in Downtown Miami this year. For more information, visit www.breakwaterhg.com.
Founded in 2008 by Alex Mantecon and Guillermo Vadell, MV Real Estate Holdings, LLC ("MVREH") is a multifaceted real estate investment and development firm specializing in the acquisition and development of complex and unique projects. With over 200 transactions since its inception, MVREH has distinguished itself with marquee projects within downtown Miami (the East Coast Building, The Wharf Miami) and multiple projects along the Ludlam Trail (Altis Ludlam Miami & Ludlam Trail Towers). MVREH's portfolio includes holdings across multiple asset classes including self-storage, multifamily, and hospitality.
Driftwood Capital is one of the country's leading hospitality sponsors. A vertically integrated commercial real estate firm with investment, development, lending and management platforms, Driftwood's unique business model provides accredited investors access to institutional-quality hotel assets or capital solutions on a direct deal basis following deal closing. Since its inception, Driftwood Capital has transacted on more than $3 billion in hospitality assets, including new ground-up hotel development projects, cash-flowing hotels and hotel-backed loans, backed by an international network of more than 1,200 investors. Driftwood's in-house team of experts oversee deal sourcing, underwriting, financing, asset management, operations, development and legal issues, ensuring a total alignment of interests with investors. For more information, visit DriftwoodCapital.com.