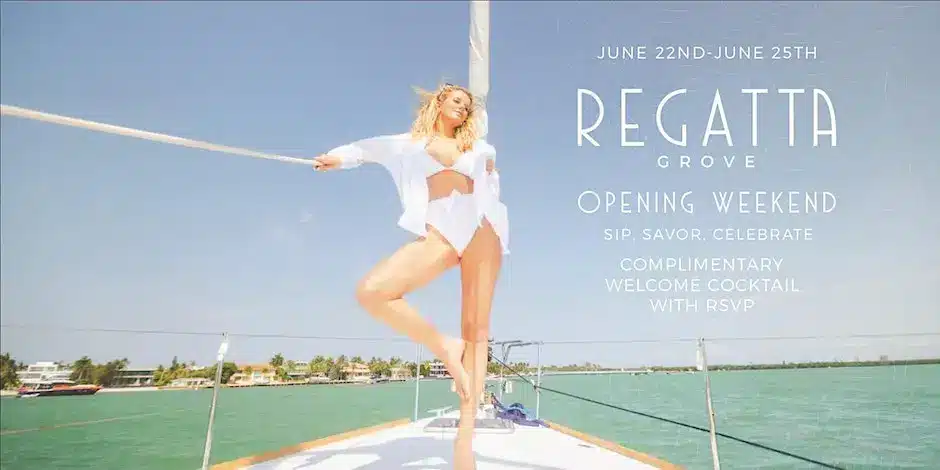 The hotspot that is Coconut Grove just got hotter! Thursday June 22nd through Sunday June 25th, we invite you to join us for a special opening weekend celebration welcoming the newest bar set to be the quintessential Coconut Grove experience, Regatta Grove.
Situated along Biscayne Bay in Coconut Grove at the new Regatta Harbour development, the community gathering spot will come to life with exceptional activations, groovy music and lofty waterfront views that together offer a relaxed, yet elevated experience. A star-studded lineup of culinary outposts by Michelin-starred and James Beard Award-nominated chefs will line the perimeter of the city's next hotspot.
How Many Bars Will There Be?
Three large bars will feature a wide selection of premium spirits, wine and beer, ensuring that guests can find the perfect beverage to suit their taste as they revel in the venue's atmosphere. In addition to the extensive offering of premium beverage brands, Regatta Grove will primarily focus its beverage program on an extensive list of refreshing, tropical cocktails and large format drinks made to share, all crafted with fresh fruit to compliment the open-air setting.
What Cuisine Will Be Featured At Regatta Grove?
House Of Birds And Biscuits
At House of Birds, guests can indulge in Signature Fried Chicken and Artisanal Drop Biscuit Sandwiches, along with an assortment of delicious salads and sides. The signature dish features Chef Kenny Gilbert's original Classic Chicken Sandwich paired with the mouthwatering Flavor Bomb Sauce. Chef Gilbert's impressive credentials include being a finalist on Season 7 of Top Chef, as well as publishing his highly acclaimed cookbook, Southern Cooking, Global Flavors.
JJ's (Guilty Pleasures) is named after the fast food and guilty pleasure items that Chef Jeremy Ford and his mother used to enjoy together. The menu consists of delicious burgers, including a mouth-watering fried soft-shell crab burger that's sure to be a hit with seafood lovers. In addition to the burgers, there are tacos, savory truffle fries, and crispy onion rings. Chef Jeremy Ford is a winner of Top Chef Season 13, a host on TV Show Fast Foodies and was recently awarded a Michelin Star for his renowned restaurant, Stubborn Seed.
Sunny Side Up Aussie Bites
Janine Booth, a Top Chef veteran and James Beard semi-finalist nominee transplanted from down under, cooks up native Australian bites in this sun-soaked waterfront cafe with love. A flavor-packed menu will feature savory Aussie pies, sausage rolls and empanadas, as well as healthy dishes like avocado toast, sunny salads and vibrant ripe fruit-filled sorbets and ice creams.
A native Florida fisherman turned chef, Jeff McInnis cooks up local seafood in this waterfront fish shack with a view. From local fish tail sliders to chilled stone crab and caviar, you'll be humbled with the freshest and best that the good ol' Florida coast has to offer. As a Top Chef veteran and James Beard semi-finalist nominee, Chef McInnis brings his culinary expertise and knowledge to every dish he creates.
The Piefather is a pizza and Italian restaurant concept, created and curated by five-time James Beard award-nominated Chef Jose Mendin. Each pizza is inspired by a passion for creating unique, flavorful dishes. In line with those strong values that separate The Piefather from the average pizza shop, every item on the menu is crafted to make diners feel like a true part of the Piefather family. Quality is at the core of every pizza crafted, with quality ingredients being the pillar of an unforgettable pizza. Whether it's the signature house-made "Don" specialty sauce, imported Italian toppings or the original fresh dough, every dish is infused with passion, imagination, and attention to detail.
As we look forward to the official opening of Regatta Grove and its spectacular weekend celebration, we can be certain that it is going to be a weekend filled with fun and festivities. There will be something for everyone – from live music to incredible food and beverage options – not to mention endless opportunities to gaze upon the beauty of the amazing waterfront setting that is Regatta Harbour. There's no better way to start the summer than by being part of this unique grand opening event. So come down to Regatta Grove Thursday June 22nd through Sunday June 25th and be sure to RSVP ahead of time for a complimentary cocktail! Time to make this opening weekend celebration one to remember!
To see a list of upcoming events at Regatta Grove, click here.