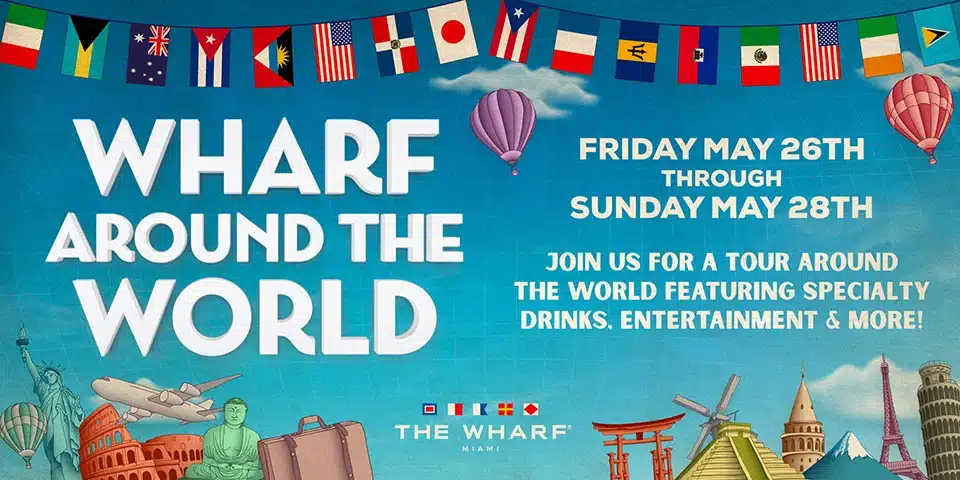 Do you have a deep urge to explore the world? To wander and discover what's out there beyond your own backyard without having to sit through 10 hour long flights? Well, Wharf Around the World is here to help you make those dreams of international adventure come true! The Wharf Miami presents you with the passport for an amazing journey bringing global destinations together in Miami for fun and excitement that will stay with you for years to come. So pack your suitcase, grab your camera, and join us on an epic cruise around the globe—no visa required!
Eats by: Sake Room, Spris Artisan Pizza, Sweet River, La Santa Taqueria and Knotty Burgers.
What Will Be Featured At Wharf Around The World?
Upon arriving at The Wharf Miami's Wharf Around the World, a passport to the world venue map will be handed to you. Providing an overview of the venue layout, it will also include detailed descriptions of each of the attractions, allowing for informed decisions to be made about which areas you would like to visit. When exploring each charming destination, be sure to collect stamps on your passport as a memento of your exhilirating world tour!
8 Bars From Global Destinations
You can experience a world of flavors with eight distinct bars showcasing global destinations. With locations like the Caribbean, Asia, USA, Italy, France, Ireland, Spain and Mexico, these bars will offer a range of drinks that are sure to make you feel like a world traveler. Whether it is an authentic Margarita from Mexico or a delicious Sangria from Spain there is certain to be a drink for all to enjoy.
40+ Drink Specials All Weekend
The Wharf Miami's 'Wharf Around the World' event offers an array of over 40 drink specials all weekend long, providing travelers with a unique and flavorful experience. For those looking for a taste of global culture, these drinks span a wide variety of tastes from around the world, ranging from classic cocktails to craft beer, wines, and more.
Cultural performances from dancing, live music performances and singing will be featured with a unique ambiance created by the colorful lights and decorations that adorn the waterfront. With an atmosphere like no other, Wharf Around The World is sure to be an unforgettable experience for guests of all ages to capture memories and revel in the trip of a lifetime.
To RSVP for Wharf Around The World at the Wharf Miami and begin your world travels, click here.
To see a list of upcoming events for sign up at The Wharf Miami, click here.